East Central Electric Cooperative serves as a point of sale for several electrical safety and energy efficiency products to improve members' quality of life. For more information or to inquire about purchasing any of the products listed below, please call the Cooperative at 918-756-0833. 
Energy efficient Marathon Water Heaters are available for purchase at the Cooperative, with a $150 rebate for East Central Electric members.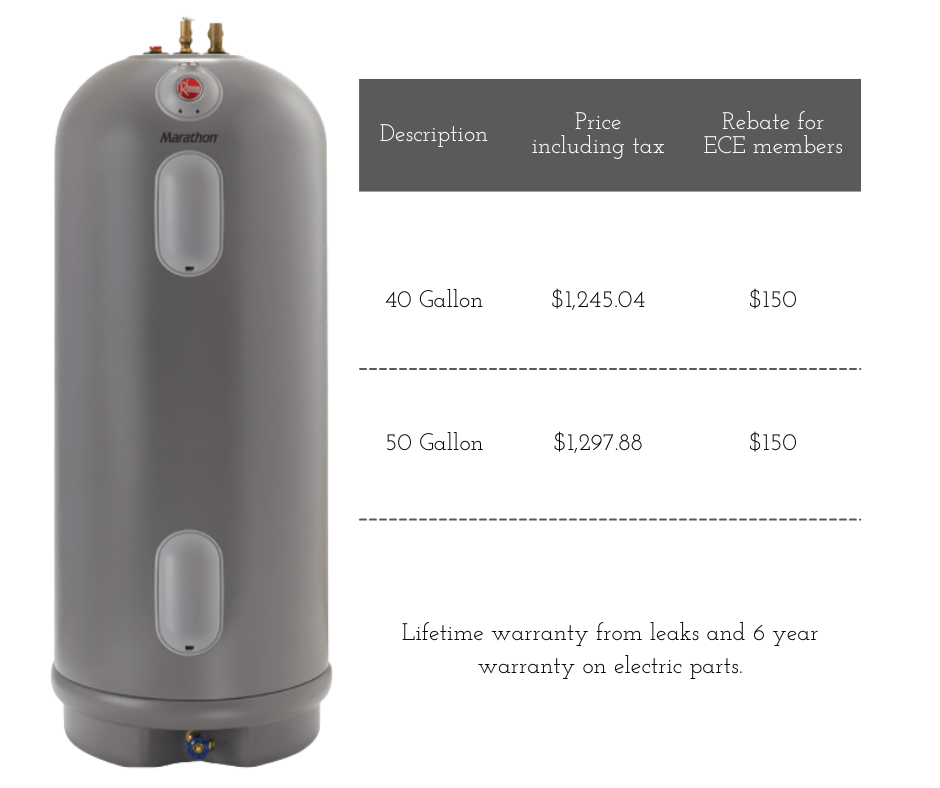 For more information on Marathon Water Heaters, visit their website.
With Oklahoma weather always bringing the threat of tornados and ice storms, plans should be made to endure potential power outages. Many homeowners have purchased a portable generator for use in their home during power outages. But, they may lack a safe and economical way to connect their generator.
For those members using generators or wanting to purchase a generator, East Central Electric Cooperative now offers GenerLink™, a meter collar device installed on your electric meter that allows you to easily connect a small generator to your home during power outages. With GenerLink™ you simply plug in the generator and use your household main circuit panel to select the circuits and appliances you want to operate based on the generator capacity. For more information on GenerLink contact your local East Central Electric Cooperative office. To visit GenerLink's website, click here.
MA 24-S    $950.00 plus tax 
40 amp SURGE PROTECT
*ECE members have the optional payment method of spreading a Generlink purchase over 6 months at no interest to their ECE electric account
Security lights for homes, farms and business let you look on the bright side with safety and convenience.  That's because you're adding protection for your family and property by removing dark shadowed areas from your premises.  Security lights are one of the safest, smartest, most convenient and most affordable forms of home and property protection available.            
| Type & Size | Customer-Owned & Maintained | Co-op Owned & Maintained |
| --- | --- | --- |
| LED - 50 Watt (with or without globe) |   | $6.79 |
| High Pressure Sodium - 250 Watt | $11.19 | $14.23 |
| Metal Halide - 250 Watt |   | $16.05 |
| Metal Halide - 400 Watt |   | $20.33 |
| Metal Halide - 1,000 Watt |   | $41.20 |
| Additional Wooden Poles (incl. up to 150' of wire) |   | $2.00 |
| Transformers or Secondary Line for lighting use only |   | $2.00 |
For more information call 918-756-0833
Large amounts of electricity surging through your home can cause serious damage to your personal equipment. The Kenick brand surge protection device that East Central Electric Cooperative sells is a low profile meter socket that protects electric circuits and can withstand multiple surges with a life expectancy of 20 years. These arrestors help to minimize the impact of about 80 percent of surges that come down the lines.
$165 plus tax - Charges can be added to your electric bill and spread over up to 6 months.
For more information call 918-756-0833