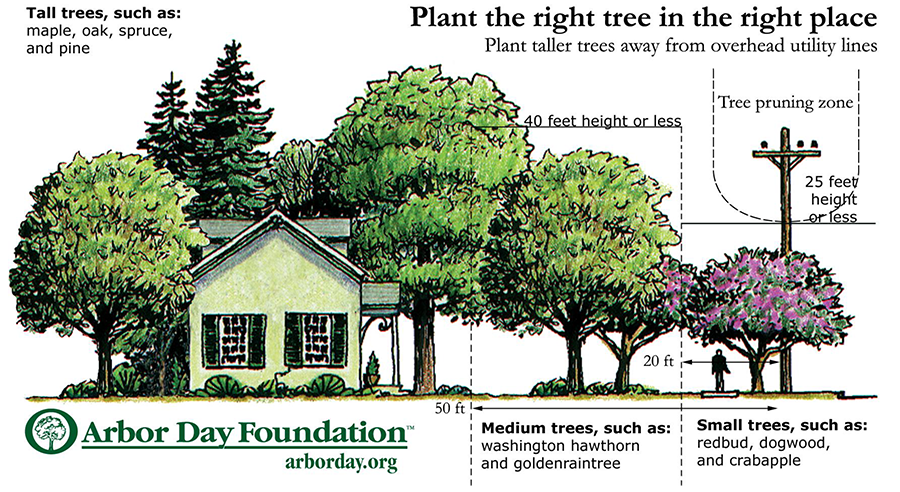 East Central Electric Cooperative strives to provide safe and reliable service. Tree limbs or other vegetation that grow on utility poles and into power lines can cause fires, power outages, and damage your equipment or property. To increase safety and minimize outages, we routinely trim tree limbs and vines around our poles and lines.
Active Management
During the month of June, our right-of-way contractors will continue performing scheduled tree maintenance around the Pierce Substation and will begin the Morris Substation.
Members will be notified via phone prior to trimming. Please verify that the cooperative has your correct contact information on file. You may experience brief outages as our system is set to prioritize the safety of our crews. East Central regrets any inconvenience this may cause and we appreciate your patience and cooperation during these projects. If you have any special instructions about entering your property or questions, please call our office at 918-756-0833. You can also receive notices and alerts by text. Please log in to SmartHub to manage your notifications.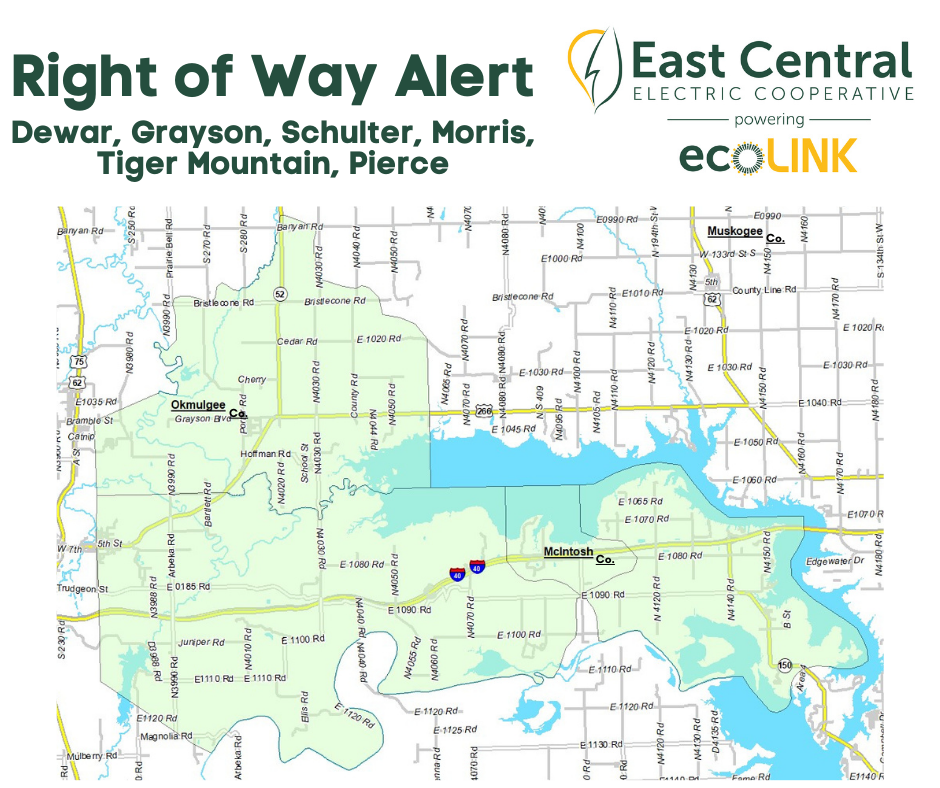 East Central Electric will continue herbicide application out of the Kiefer, Kellyville, Shamrock, Bristow, and Beggs substations through October. If you are a landowner that has any of the following, please contact our Right-of-Way Department via email row@ecoec.com or call 918-756-0833. When leaving a message please include name, phone number, address, and a brief message.
-Apiary
-Vineyard or Winery
-Orchard or Tree nursery or Grove
-Certified organic garden
-Sensitive crops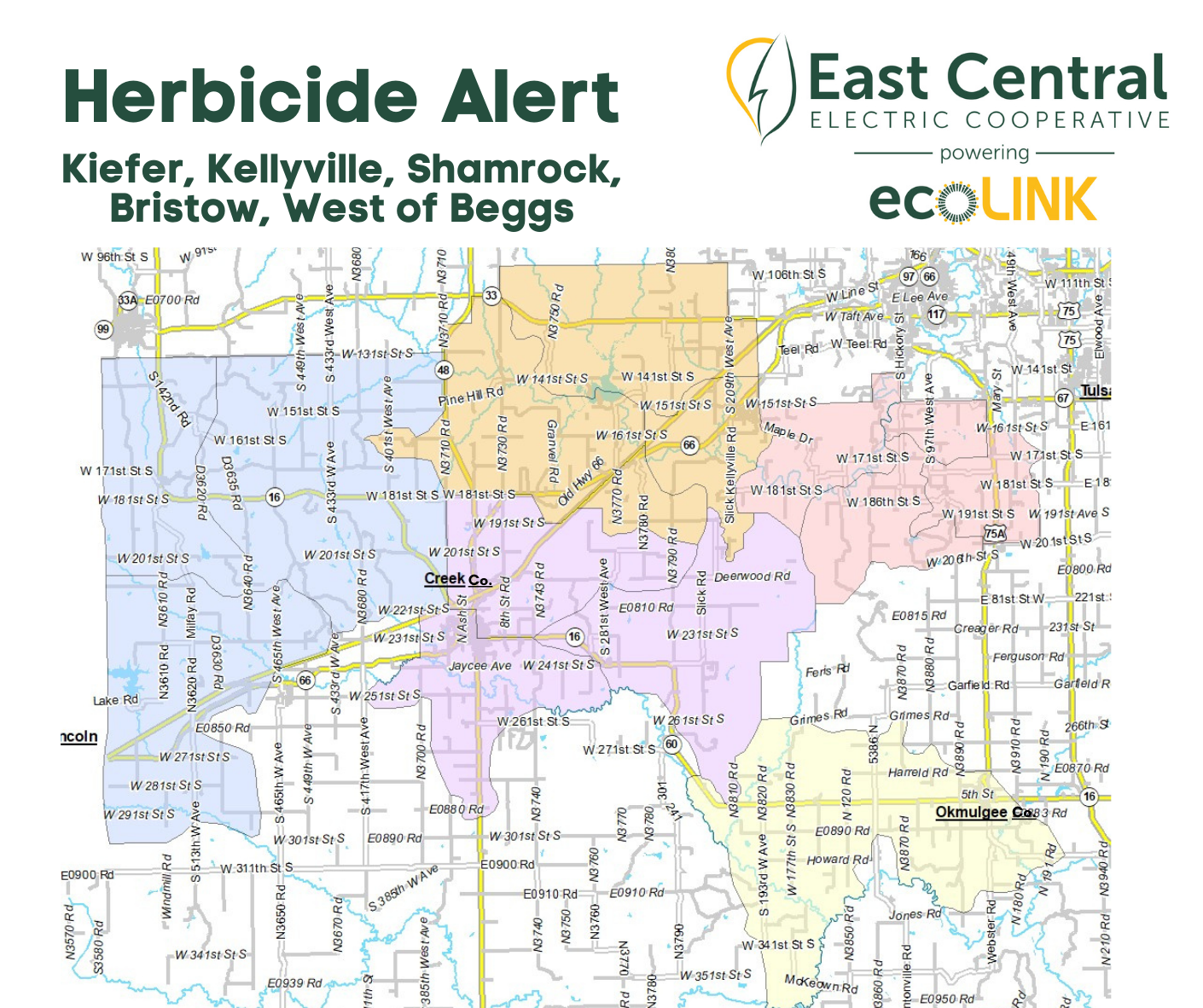 ---
Safety First
Members should not attempt to trim trees near high-voltage power lines. A tree touching a power line can become energized and can result in serious injury, or even death, for anyone who comes into contact.
East Central Electric Cooperative operates on a 5-year schedule for herbicide and tree-trimming to ensure all 6,000+ miles of our electric line are maintained.  If you are experiencing service problems as a result of vegetation, please give us a call at 918-756-0833. 
Do you trim trees around the line that runs from the pole to my house?
Maintaining clearance around the line that runs from the meter to the home is a property owner's responsibility. Although the voltage through a service drop is much lower than the voltage through our grid, it is still dangerous. We strongly recommend that you hire a professional tree service to do this trimming. For property owners who prefer to do it themselves, please call the co-op at 918-756-0833 and request a temporary service disconnect while you work to avoid injury.
Can I hire my own arborist to prune the trees away from high-voltage lines?
Only tree trimming companies that have been approved by ECE and have met OSHA qualifications may trim trees away from high voltage power lines. These professionals should comply with all applicable safety regulations and take appropriate precautions. If you have a dead tree or are planning to have work done on a tree closer than 10 feet to the power line, please contact ECE for a safety inspection and approved contractors.
---
Vegetation Management Regulations, Specifications, and Definitions
East Central Electric follows the American National Standards Institute (ANSI) A300 standard Practices endorsed by the International Society of Arboriculture, the National Arbor Day Foundation, and the National Arborist Association.
Those practices require tree-trimmers to cut branches back to the parent limb. This enables the pruning cuts to close more rapidly — reducing the chances of insect and disease damage — and promotes a healthier regrowth of the branches that are directed away from the power lines.
Pruning considerations include the tree species, growth and regrowth rates, proximity to power lines, power line voltage, type of power line construction, length of pruning cycle, natural tree shape and branching pattern, general tree condition, and appearance after pruning.
All pruning will be defined as directional pruning.  Directional pruning is defined as the pruning of unwanted branches back to lateral branches or parent stems that are GROWING AWAY FROM THE FACILITY. These lateral branches should be of sufficient size to become dominant, thus discouraging the growth of sprouts.
On Primary lines – 15' minimum clearance from the center of a pole with a cross arm; 10' minimum clearance from the center of a pole without a cross arm
Primary overhang – 15' minimum clearance above all primary wire, including established wood. When possible, it is preferable to reduce or remove all overhanging limbs.
Fiber Wires and Secondary or Service wires – 5' clearance laterally, below, and above the line.  Only pruning for strain or abrasion on the wire.
Guy wires – 5' clearance for ALL guy wires from pole connection to anchor.
Primary poles – 10' clearance around all poles. Any tree that is greater than 10" DBH that is creating strain or abrasion on that pole will be removed.
Meter and uplift poles – 10' clearance around all poles. Any tree that is greater than 10" DBH that is creating strain or abrasion on that pole will be removed.
Guy wire anchors – 5' clearance for ALL guy wires from pole connection to anchor.
Voluntary growth trees will be defined as trees that are native and have grown naturally and not been planted by the property owner as part of their landscape, (ie. Common Hackberry, Siberian Elm, Eastern Redcedar, Blackjack Oak, etc.). All herbicide is handled and applied from an Oklahoma Department of Agriculture, Food, and Forestry certified Service Technician or Applicator.
Foliar and/or basal application – the target trees for high volume foliar and/or basal application will be voluntary growth trees that are under the primary wires.
Brush will be defined as any voluntary growth tree, up to 6" diameter, under the ECE primary wires. All brush that is under a primary line, will be removed and treated.
________________________________________________________________________________________________________________________________________________
Tree Growth Management
East Central Electric routinely applies Tree Growth Regulators (TGR's) to trees across its service area to help with the maintenance of trees that are located along the powerline right-of-way that have been trimmed in yards and inaccessible areas. Learn more about TGR's.
FACTS ABOUT TREE GROWTH REGULATORS