Hello East Central Electric Member
You don't need us to tell you, it's hot out there. You may already be well aware of the danger extreme heat can pose to your personal health and the impact it can have on your electric bill. Still, we want to help you get prepared with tips and tricks to save money and stay safe. The topics covered on this page include: preparing your home for hot weather, easy energy savers, electrical hazard prevention, summer weather preparedness, and children's activities to share this important information with mini-members.
Preparing Your Home for Hot Temperatures
Weatherization and routine check-ups for your home cooling systems can be a small price to pay now to avoid skyrocketing electrical bills later on. All of the following tips come from the U.S. Department of Energy's Energy Saver Program.
Weatherization
Weatherizing your home helps you save money by saving energy, and it can also improve the comfort of your home.
East Central Members can have a free home energy audit done to start building your strategy for weatherizing your home, then learn about air sealing, insulation, moisture control, and ventilation. Also be sure to check dampers on chimneys, inspect floor vents, and seal attic doors.
If you want to speak to a Member Service Representative about East Central's Home Energy Audits and Weatherization Rebates, call us at 918-756-0833.
If you're more into the Do-It-Yourself style of home maintenance, the U.S. Department of Energy has helpful DIY Weatherization Guides on a variety of topics, including:
Note: Weatherization rebates are only available to those members who take advantage of East Central's free home energy audit.
Home Cooling Systems
Cooling your home often accounts for a larger portion of your energy bill each year than running your household appliances -- typically making up about 13% of your annual utility bill.
No matter what kind of cooling system you have in your house, you can save money and increase your comfort by properly maintaining and upgrading your equipment. But remember, an energy-efficient air-conditioner alone will not have as great an impact on your energy bills as using the whole-house approach. By combining proper equipment maintenance and upgrades with recommended insulation, air sealing, and thermostat settings, you can have significant savings on your electric bill.
Cooling Tips
Set your programmable thermostat as high as is comfortable in the summer, and raise the setpoint when you're sleeping or away from home. A one degree reduction in cooling setpoint can increase energy use by 3-5%.
Clean or replace filters on air conditioners once a month or as recommended.
Turn off kitchen, bath, and other exhaust fans within 20 minutes after you are done cooking or bathing; when replacing exhaust fans, consider installing high-efficiency, low-noise models.
During summer, keep the window coverings closed during the day to block the sun's heat.
During the summer, run ceiling paddle fans on medium, blowing down. Be sure to turn fans off when leaving the room. Fans cool people, not rooms. 
Select energy-efficient products when you buy new cooling equipment. Your contractor should be able to give you energy fact sheets for different types, models, and designs to help you compare energy usage. See the efficiency standards for information on minimum ratings, and look for the ENERGY STAR when purchasing new products.
---
Easy Energy Savers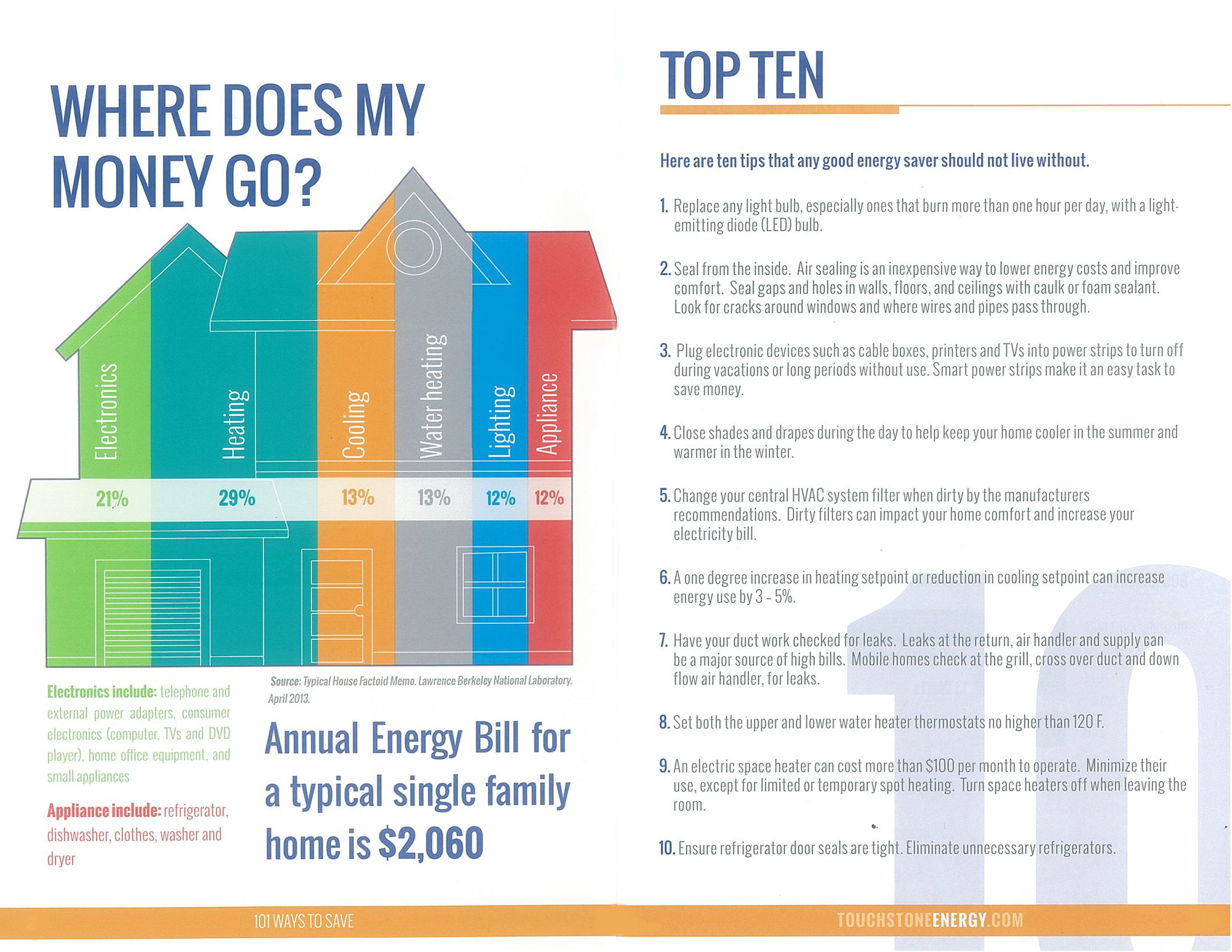 Touchstone Energy Cooperatives offers a quick and easy 101 Ways to Save Guide. If the top 10 stood out to you, you can find the other 91 here.
---
Beat the Peak
Save energy and money by reducing energy use between 4 and 7 p.m.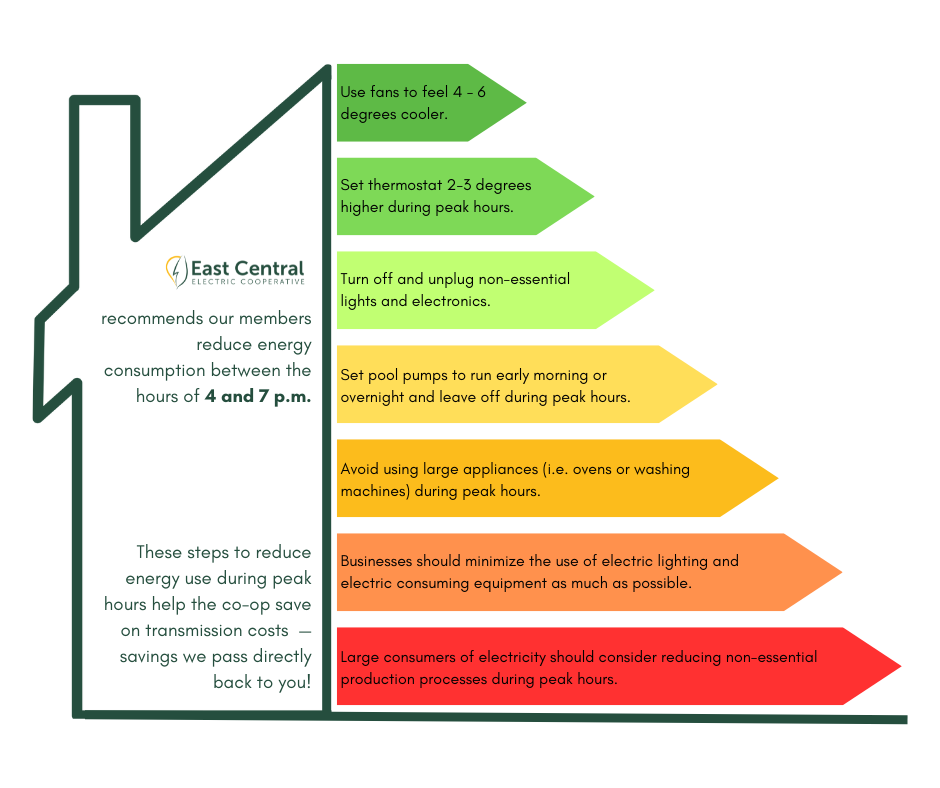 ---
Summer Electrical Hazard Prevention
During the summer months, the most common electrical hazards are outside your home in swimming pools and at marinas, but there are plenty of concerns within your home to be aware of as well.
Air Conditioner and Fan Safety
Contact with electric current from air conditioners accounts for a significant number of electrocutions and electrical injuries each year. East Central Electric recommends that you always contact a qualified, licensed electrician to perform any electrical work in your home, including the installation and services of air conditioning and other cooling equipment.
In 2010, air conditioning, fans, or related equipment were involved in an estimated 7,400 reported U.S. home structure fires, with associated losses of 29 civilian deaths, 249 civilian injuries and $207 million indirect property damage (according to the National Fire Protection Association).
Pool and Spa Safety
Electric Shock Drowning (ESD) severely injures and kills people every year. ESD occurs when faulty wiring sends electric current into water, which passes through the body and causes paralysis, which could ultimately result in drowning.
How to Avoid Electric Shock Drowning
Locate and label all power switches to the pool, hot tub, spa equipment, and lighting
Make sure all pools, hot tubs, and spas are at least 25 feet from powerlines
All wiring and repairs should be performed by a qualified electrician
Have a qualified electrician inspect your pool, spa, or hot tub annually
Install GFCIs, which can prevent electrocution, on all receptacles within 20 feet of the water's edge
What to do if you see Electric Shock Drowning
Do not enter the water
Turn off the source of power
Call 911
Use an insulated device (such as a fiberglass rescue crook) to attempt to remove the victim from the water
Boating and Marina Safety
Docks and boats carry source of electricity that can cause the surrounding water to be energized. As little as 10 milliamps, 1/50th the amount used by a 60 watt light bulb, can cause paralysis and drowning.
What to do if you see electric shock drowning taking place:
Turn power off
Throw a life ring
Call 911
NEVER enter the water – you could become a victim too